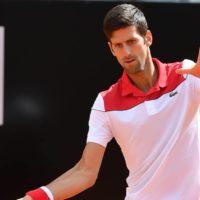 Serbian Novak Djokovic defeated Greece's Stefanos Tsitsipas at the mens final at the 2021 French Open to capture his 19th career major title Sunday in Paris. Djokovic rallied from a two-set deficit for the 6-7, 2-6, 6-3, 6-2, 6-4 win in the four-hour, 11-minute match at Court Philippe-Chatrier.
The 34-year-old Djokovic played a total of nearly eight and a half hours of tennis in his last two matches. He needed four hours and 11 minutes to upset defending champion Rafael Nadal on Friday in Paris. Djokovic claimed a $1.7 million prize for winning his second Grand Slam of the season. The world's top player is now just one major title behind Roger Federer and Rafael Nadal for the most in the history of the men's singles circuit.
Djokovic will attempt to win his third Grand Slam title of the season at Wimbledon 2021, which will be held June 28 to July 11 at the All-England Club in London.
Editorial credit: FRANCESCO PANUNZIO / Shutterstock.com