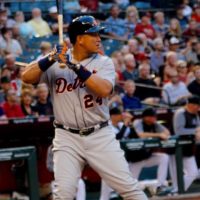 Miguel Cabrera has become the first Detroit Tiger to reach 500 home runs, making history with his milestone hit against the Blue Jays on Sunday. Cabrera has now become the 28th member of the '500-home run club.' Cabrera, 38, is the first Venezuelan international to hit 500 home runs and the first player to reach the milestone since David Ortiz in 2015. He is also second among active players in home runs behind Dodgers first baseman Albert Pujols's 677.
Cabrera is also nearing another milestone, the 3,000-hit landmark — he currently has 2,955 hits. Cabrera would become only the seventh player to achieve both 500 homers and 3,000 hits, and would also become the very first player to reach both milestones during the same season.
Cabrera, a two-time AL home run champion, is signed through the 2023 season following an eight-year, $240 million contract he signed in 2016. The 11-time All-Star joined the Tigers after the 2007 season following five seasons with the Marlins, and won the AL MVP award in 2012 and 2013, as well as four league batting titles and the AL Triple Crown in 2012.
Editorial credit: Keeton Gale / Shutterstock.com