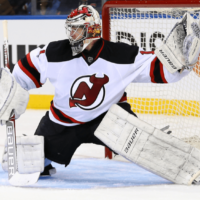 New Jersey Devils goaltender Mackenzie Blackwood confirmed that he has not received a COVID-19 vaccination, making him the only Devils player not vaccinated and potentially unavailable for some of his team's games this season. The 24-year-old said he's "not currently" vaccinated, but is leaving open the possibility that he could still get the vaccine. Said Blackwood: "I've not decided one way or the other whether I'm doing it. I'm taking a little bit of extra time. I have a couple of health concerns and health reasons why I'm working through it a little slower. I wanted to check off a couple of boxes, and not rush to do it."
The NHL estimates that around 98% of its players will have been vaccinated before the season begins Oct. 12. There was no vaccine mandate by the league, but teams have strongly encouraged their players to get vaccinated, especially due to travel restrictions. Per an NHL and the NHLPA agreement on COVID-19 protocols, teams will have the ability to suspend unvaccinated players without pay if they can't participate in hockey activities. That includes the inability to play games in Canada. The Devils will play teams in Canada nine times this season.
Blackwood said: "I'm not trying to be a distraction to them while I work through it. I don't like making life more difficult for the staff or my fellow teammates. I would rather things be normal."  Blackwood had a severe case of COVID-19 last season, right before an outbreak on the Devils. He had a heavy cough and trouble breathing, saying at the time that he "didn't have the greatest lungs my whole life" and knew COVID-19 would impact him. He's now "100% healthy" from COVID-19 and had no further complications from his illness during the offseason.
Editorial credit: Debby Wong / Shutterstock.com