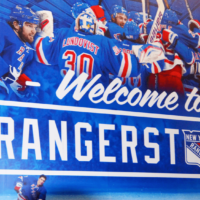 The Penguins' Evgeni Malkin scored on a deflection 5:58 into the third overtime, bringing Pittsburgh a 4-3 victory over the New York Rangers in Game 1 of their first-round playoff series on Tuesday night at Madison Square Garden.
For the Penguins, Jake Guentzel scored twice and Bryan Rust had a goal and two assists, while Sidney Crosby also had two assists. Casey DeSmith had 48 saves before leaving the game midway through the second overtime; Louis Domingue came in and had 17 saves, despite having appeared in only two games during the regular season.
Game 2 of the best-of-seven series is Thursday night in New York, before the teams return to Pittsburgh for the following two games.
Editorial credit: meunierd / Shutterstock.com