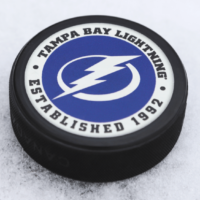 The Tampa Bay Lightning beat the Toronto Maple Leafs 5-3 on Wednesday night in Game 2 to even the first-round series.
Victor Hedman had one goal and three assists for his first four-point playoff game, while Nikita Kucherov added a goal and two assists, and Brayden Point, Corey Perry and Brandon Hagel also scored for two-time defending Stanley Cup champions. Andrei Vasilevskiy made 31 saves, bouncing back strong after the Lightning lost the series opener 5-0.
Game 3 will between the Lightning and Maple Leafs will take place Friday, May 6th in Florida.
Editorial credit: Michael715 / Shutterstock.com