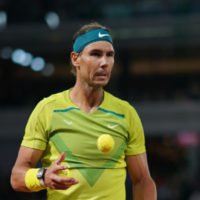 Novak Djokovic defeated Kwon Soon-woo 6-3, 3-6, 6-3, 6-4 on Centre Court at Wimbledon on Monday, his 80th victory at the grass-court.  Djokovic, a six-time champion at the All England Club, made history and becomes the first man or woman to win that many matches at each of the four Grand Slam tennis tournaments.
Djokovic said: "It's always very unique match to play as the defending champion, first on the grass. Other than this year that Wimbledon made a change so you could practice before the tournament starts, it was always coming out on the untouched grass. It's really a unique and special feeling in our sport."
Djokovic was playing for the first time since losing to Rafael Nadal last month in the French Open quarterfinals. He has won the last three Wimbledon titles, and is going for his seventh overall which would tie him for second place with Pete Sampras and William Renshaw.  Roger Federer leads with eight Wimbledon titles.
Editorial credit: Leonard Zhukovsky / Shutterstock.com